Welcome to the home of Sveahovs mastiffs!
Välkommen till oss!
We live in Sweden, about 70 km from Stockholm.
Our family consists of me Annelie, my husband Magnus and our two daughters. I have had dogs as my number one hobby all my life. I grew up with Rottweilers and Labradors and bought my first Mastiff in 1996.
It was love at first sight!
This breed is really something special!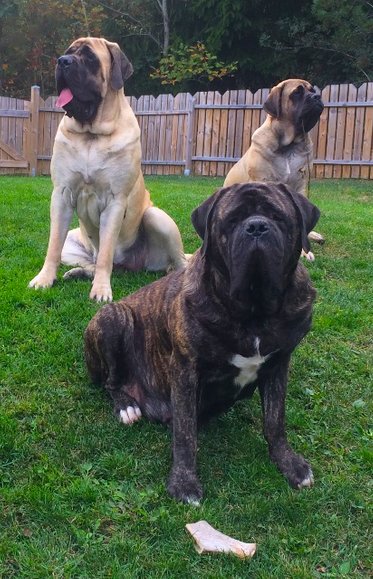 The goal of our breeding is to breed Mastiff with strong and happy mentality and have the appearance of a true Mastiff.
We think that a mastiff should radiate power, grandeur and good nature. He should have a big bone, broad head, have a massive body and have a mentality that does not show shyness or fear!
This is our goal, to give our puppies the best foundation for their future life with their new owners.
Our puppies grow up in a calm and safe environment, inside the house as
a part of our family.
When they leave us they are used to children, cats and everything else that is considered to involve a normal, daily life.
Our dogs are our family members and lives close to us inside the house, just as it should be.
We hope you will enjoy your visit to our website!